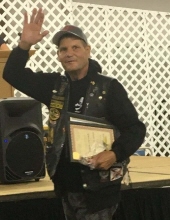 Obituary for Richard Butcher
Richard John Butcher, 62, passed away on Sunday, June 10, 2018 at his home surrounded by his loving family.  He was born on November 30, 1955 to Ilmi (Gomsi) and Joseph Butcher in Warren, Ohio.   

He joined the United States Marine Corps in 1974 and carried that honor proudly.  He was a builder and a retired teacher from the Clark County Public School System.  He held a Master's in Education from Eastern Kentucky University.  He was a member of the Masonic Right Angle Lodge 233 and a proud member of the Widows Sons Masonic Riders Association.   

Richard was a firm believer in family, God, and his country, serving each one in every way he could.  He was very proud to serve as a Marine but was most proud to serve his family. 

He married Ernestine Archuleta on October 13, 1976.  In addition to leaving behind the love of his life, he leaves behind two daughters, Angela (Brandon) Franklin and Ariane Butcher, both of Winchester, KY; two granddaughters, Lily and June Franklin. 

In addition, he leaves behind four brothers, Jimmy Butcher of Arizona, Russell (Cindy) Butcher of Simi Valley, CA, David (Mary) Butcher of Winchester, KY and Joey Butcher of Naples, FL;  one sister, Debbie Curylo of Naples, FL; one nephew, Justin Butcher; three nieces, Christina Wolters, Stephanie Hamilton, and Jamey Perry.   

He was truly loved by so many and will be greatly missed. 

Services will be at 11:00AM, Friday, June 15, 2018 at Winchester First Church of God, 2500 Colby Rd, Winchester, KY 40391 by Pastor Allan Hutchinson.  Burial will follow at Camp Nelson National Cemetery.  Pallbearers will be Phillip Hamilton, Justin Butcher, Bucky Gay, Chris Christy, Elvis Justice, Billy Franklin, Russell and David Butcher.  Honorary pallbearers will be Brandon Franklin, Shane Finch, and D&S Hardware Store breakfast club. 

Visitation will be Friday from 9:00AM until time of service at 11:00AM at Winchester First Church of God.   

In lieu of flowers, memorial contributions are suggested to a Cancer Charity of one's choice and/or The Progeria Research Fund on behalf of Zach Pickard at www.Progeriaresearch.org.