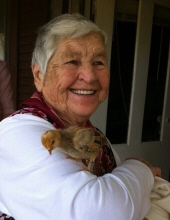 Obituary for Bessie Nell Holder Caudill
Bessie Nell Holder Caudill, 84, widower of Charlie Caudill, passed away Saturday, May 26, 2018 at her home. She was born in Clark Co. on July 13, 1933 to the late Alec and Stella Hon Holder. She attended Ark of Mercy. She was also a Homemaker and a retired farmer. 

She is survived by four daughters, Linda Caudill Schooler, Barbara Caudill Wrenn, Sharron (Veronica) Caudill, Marry (Waleed) Khalel; seven sons, Cecil (Mary) Caudill, Henry Caudill, Alvin (Peggy) Caudill, Wilburn "Booboo" (Carol) Caudill, Mike Caudill, James (Diane) Caudill, Ralph (Shawn) Caudill; 47 grandchildren, 29 great grandchildren, three great great grandchildren, one brother, Walter Newt Holder; one sister, Margaret Gibson, and several nieces, nephews, and cousins. She is preceded in death by her husband, parents, one daughter, Sarah Estes; three grandchildren; one sister, Nannie Mullins; and one brother, John Holder. 

Services will be 12:00 Friday, June 1, 2018 at Scobee Funeral Home by Charles Schooler. Burial will be at Hatton Creek Cemetery in Clay City, KY. Pallbearers will be sons and grandsons. 

Visitation will be from 10:00-12:00 Friday, June 1, 2018 at Scobee Funeral Home.