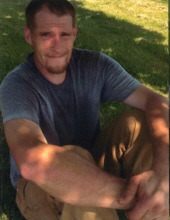 Obituary for Paul Daniel Otis
Paul Daniel Otis, 33, passed away on Sunday, May 20, 2018 at his home.  He was born in Lexington, Kentucky, on July 7, 1984, to Anna Hall Otis and the late Dana Wesley "Wes" Otis.  He was skilled carpenter and worked for Maloney Roofing and Siding.   

In addition to his mother, he is survived by two brothers, Joel Wesley Otis and Nathanael Lee (Cathy) Otis;  three nephews, Pierce, Tristan and Maverick Otis; grandmother, Donita Otis; several aunts, uncles and cousins.  

Services will be at 11:00AM, Saturday, May 26, 2018 at Scobee Funeral Home by Pastor Lowell Rice.  Burial will be in Clarmont Memorial Gardens.  Pallbearers will be Jimmy Bradley, David Tracy, Vernon Hall, Hobert Hall, Jerry Hall, Randall Curtis and Greg Harp. 

Visitation will be Friday from 5:00-8:00PM at Scobee Funeral Home.