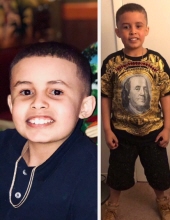 Obituary for Braylen May
Braylen De'Onta May, 9, passed away on Saturday, May 19, 2018.  He was born in Lexington, KY, on August 5, 2008.   

He is survived by his mother, Destiny May; two brothers, Qayvion May and Austin Brown; three addition siblings; maternal grandparents, Sammy May and Sue (Garry) Rogers; one uncle, Jason "Bub" Holland; one cousin, Adalynn Holland; two Godmothers, Joy Markwell and Monique Garr-Gill; and three special friends, Colter Hearn, Kara Gill and Ralph "Hubb" Gentry. 

Services will be at 5:00PM, Wednesday, May 23, 2018 at Ark of Mercy by Pastors Janice Claypoole and Ken Medcalf.  Scobee Funeral Home in charge of arrangements.  

Visitation will be from 3:30PM until time of service.