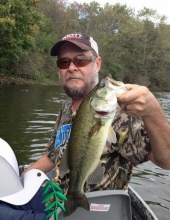 Obituary for Mark Edward Bailey
Mark Edward Bailey, 50, of Winchester, passed away, Wednesday, May 16, 2018 at St. Joseph Hospital in Lexington.  He was born on August 16, 1967 in Clark County to the late Shelby Bailey and Marqueitta Breeding Sparks.  He previously worked as a laborer with the Freeman Corporation in Winchester. 

Survivors include his step-father, Kenneth Sparks; three sisters, Judy Lites (Wayne) of Georgia, Jean Martin (Jerry) and Tammy Fugate (Andre) all of Winchester.  Mark also leaves behind several nieces, nephews, cousins and extended family members. 

A memorial service will be held at 6:30PM on Monday, May 21, 2018 at Trinity Church of God in Winchester, by Bro. Billy Keller. 

A gathering of family and friends will be held at the church on Monday from 5:30PM – 6:30PM.

Memorial Contributions are suggested to Kentucky Organ Donor Affiliates, 10160 Linn Station Road, Louisville, KY. 40223 or to Beacon of Hope, 850 Bypass Road, Winchester, KY. 40391.  Scobee Funeral Home in charge of arrangements.