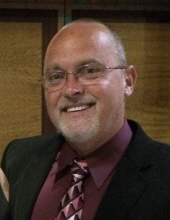 Obituary for Earl Franklin Conley
Earl Franklin Conley, 55, husband of June Kay Rogers Conley, passed away on Thursday, May 03, 2018 at Baptist Health Hospital in Lexington, KY.  He was born in Paris, KY, to Richard Allen Conley and Anna Sue Acke Humphrey, on September 21, 1962.  Mr. Conley was a service advisor. 

In addition to his wife and parents, he is survived by two children, Christopher Earl Conley and Melissa (Michael) Christopher; two granddaughters, Hannah and Kaylee Christopher; one brother, Matt Humphrey; and an uncle, Tom Acke. 

Services will be at 5:00PM, Saturday, May 5, 2018, by Pastor Ross Chambers at Scobee Funeral Home. 

Visitation will be Saturday from 3:00PM until time of service.