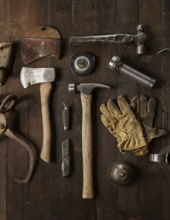 Obituary for James V. Clark, Jr.
James V. Clark, Jr., 57, passed away on Tuesday, May 1, 2018 in Louisville, KY.  He was born on December 24, 1960, in Garden City, Michigan, to the late James "Jay" and Iva Jean Fowler Clark.  He was a construction contractor and enjoyed playing the drums.  

Survivors include three children, Austin, Chasity and Chad Clark; two sisters, Doris (James Michael) Carrington and Lee Ann Lankford; one brother, Eugene (Brenda) Clark; three nephews, Brent and Lance Clark and Jimmy (Amy) Carrington; four nieces, Jennifer (Tony) Strode, Regina Sparks, Jamie (Michael) Regulinski and Jeannie (Jesse) James; several great nieces, nephews and cousins.  He was preceded in death by one niece, Christina Whitfield.  

A memorial service will be at 6:00PM, Monday, May 7, 2018 at Scobee Funeral Home.   

Family will receive friends from 5:00PM until time of service.   

In lieu of flowers, contributions are suggested to Austin Clark College Fund, P.O. Box 357, Winchester, KY 40391.