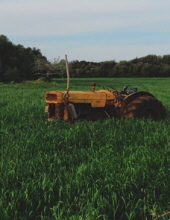 Obituary for Danny Arvin
Danny Arvin, 73, passed away on Monday, April 30, 2018 at Clark Regional Medical Center.  He was born in Paris, Kentucky, on November 27, 1944, to the late Vernon and Alice Lynch and Callie Arvin Willougby.  He was a lifelong farmer for over 60 years. 

Survivors include two sons, Jason (Melinda) Thomas and Cody Arvin; one daughter, Joyce Arvin; seven grandchildren, Curtis Thomas, Maddie Thomas, Avery Charles, Brody Arvin, Tracy Irvin, Samantha Wilson and Colby Parrish; five brothers, Charles Lynch, Melvin Lynch, Denny and Dennis Arvin, Doug Lynch; three sisters, Ella B. Lynch, Darlene Hopper and Mary Kate Jones.  

Services will be at 10:00AM, Wednesday, May 2, 2018 at Scobee Funeral Home by Minister Stephen J. Lech.  Burial will be private.  Pallbearers will be Jason Thomas, Cody Arvin, James Taulbee, Nathan Arvin, Colby Parish and Jeremy Irvin.  

Visitation will be 5:00-7:00PM, Tuesday, May 1, 2018 at Scobee Funeral Home.   

In lieu of flowers, memorials are suggested to a charity of one's choice.