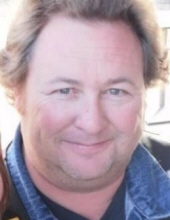 Obituary for Bruce Douglas Griggs
Bruce Douglas Griggs, 60, passed away on Saturday, February 3, 2018 at his home.  He was born on March 11, 1957, in Chelsea, Massachusetts, to the late Robert Douglas and Dorothy Martin Griggs.  He was a United States National Guard Veteran and a retired carpenter.  He was a member of Southern Cruisers Motorcycle Club, where he was nicknamed "Doughboy".  He loved to attend baseball games, read novels, go bowling, fishing, and leather making.   

 Survivors include his son, Anthony Douglas Griggs; one sister, Yolanda   Griggs (Tim) Adkins; two step brothers, Dean (Lisa) Bartholow and   Coleman Harrison; Linda Griggs, whom he married on May 2, 1980 and   later divorced; several aunts, uncles and cousins. 

 Memorial services will be at 12:00PM, Saturday, February 10, 2018 at     Scobee Funeral Home. 

 Family will receive friends from 10:00AM until time of service.   

 In lieu of flowers, donations can be made to the Michael J. Fox   Foundation for Parkinson's Research at michaeljfox.org.
Previous Events
Gathering of Family and Friends
Scobee Funeral Home
219 West Lexington Ave.
P.O. Box 16
Winchester, KY 40391
Service
Scobee Funeral Home
219 West Lexington Ave.
P.O. Box 16
Winchester, KY 40391