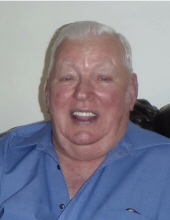 Obituary for Donald Taylor Means
Donald Taylor Means, 76, husband of Jaydell Wilks Means, passed away on Wednesday, January 3, 2018, at Baptist Health Hospital in Lexington, KY. He was born in Powell County, KY, on March 29, 1941, to the late Clyde and Edna Burgher Means. He was retired from Catalent and a member of Gateway First Church of God.

In addition to his wife, he is survived by six children, Donald Wayne (Sandy) Means, Betty (Daryl) Cornish, Pam (late Billy) Brinegar, Michelle Lynn (Michael) Goforth, Ronald Mould and Michelle (Robbie) Hopkins; sister, Dorthy Means Howard; brother, Manius Means; two special friends, Donald Brush and Dottie Loy; several grandchildren and great grandchildren.

He was preceded in death by his parents, eighteen siblings, daughter, Sandra Lynn Johnson and grandson, Josh Means.

Services will be at 11:00AM, Tuesday, January 9, 2018 at Scobee Funeral Home by Pastor Rogers. Burial will be in Machpelah Cemetery, Mt. Sterling, KY. Pallbearers will be Brandon Goodpaster, Kevin Means, Brandon Goldie, Jimmy Means, Shane Hasty, Ben McFadden, Jerry Burnham and Donald Brush. Honorary pallbearers will be David Means, Ron Mould, Preston Losh, Michael Goforth and Blake Nashick.

Visitation will be Monday from 5:00-7:00PM at Scobee Funeral Home.