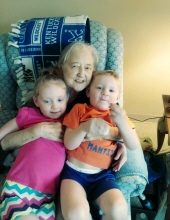 Obituary for Patricia Hatton Brandenburg
Patricia Ann Hatton Brandenburg, 70, passed away peacefully on Sunday, September 30, 2018 at Central Baptist Hospital.  She was born on June 6, 1948, in Clark County, KY, to the late Jack D. and Ethel Jackson Hatton.  She was a retired government employee, and was a true blue Wildcat Fan.  She enjoyed life with family and friends and was a member of Church of the Living God, Franklin Avenue, Winchester, KY.  She was saved and baptized in April of 1964.   

She was a loving mother and grandmother of two beautiful babies whom she dearly loved.  She is survived by one son, Shane Bruce Brandenburg; two grandchildren, Reagan and Ryker Brandenburg;  two siblings, Jerry Hatton, Sr. and Bessie Bates; several nieces, nephews and extended family.   

In addition to her parents, she was preceded in death by brothers, Eugene, Jack Jr. and Glen Hatton; two sisters, Esther Crowe and Zella Estes. 

Memorial services will be at 2:00PM, Thursday, October 4, 2018 at Scobee Funeral Home by Pastor Don Burkhead.   

Family will receive friends from 1:00PM until time of service.