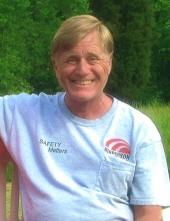 Obituary for David E. Wellinghurst
David E. Wellinghurst, 65, husband of Janis Eckert Wellinghurst, passed away on Sunday, September 30, 2018 at his home.  He was born in Louisville, KY, on December 6, 1952, to the late Dan and Mabel Stephens Wellinghurst.  David was a retired electrical estimator. 

In addition to his wife, he is survived by two sons, Billy Dan (Renee) Wellinghurst and Luke (Lora) Wellinghurst, both of Richmond; and six grandchildren. 

Services will be at 10:00AM, Wednesday, October 3, 2018 by Pastor Peter Stephens.  Burial will be in Boonesboro Cemetery.   

Visitation will be from 9:00AM until time of service.