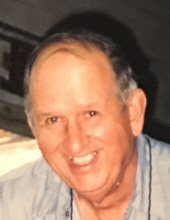 Obituary for William Fraley
William C. Fraley, 90, passed away peacefully at his home on September 25, 2017. Born in Winchester in 1927, he lived his entire life in Clark County and served our country in WWII as a Marine. He is survived by his beloved wife of 58 years, Phyllis J. Fraley. He was the beloved father to Brenda Fraley (Donnie) Rogers, Sandra Fraley, Teresa Fraley (Jim) King, Connie Fraley (Lee) Campbell, William Jeffrey (Patricia) Fraley, Michael Edward (Theresa) Fraley, Alice Fraley (Patrick) O'Kelley. He is also survived by 18 grandchildren and 16 great-grandchildren. He was one of eight children born to Everett and Edna Fraley. He is survived by his brother Andrew Fraley and his sister, MaryAnn Estes. He was preceded in death by two brothers, Noble E. Fraley and Bernard C. Fraley and three siblings who died at birth. He was a husband, father, friend…known to many through Fraley Automotive with locations in Winchester (co-owned with his brother, Bernard C. Fraley) and Mt. Sterling. Quick to help others, to share his engineering know-how, quick to smile and share his quick wit, he was a friend to many. He loved working on cars, trucks, tractors and farm equipment…anything mechanical. As much as he loved his job, he enjoyed life on his farm more. He was greatly loved and admired by the lives he touched.  His spirit lives on. 

Services will be 11:00AM Saturday, September 30, 2017 at Scobee Funeral Home by Marion Brewer. Burial will follow in Elkin Cemetery in Powell Co.

Visitation will be from 5:00PM-8:00PM Friday, September 29, 2017 at Scobee Funeral Home.

Pallbearers:  John William Estes, Jacob Fraley, Alexander Kyle Fraley Hastings, Jacob Huber, Rod McClure, Don Rogers, Wes Rogers and Josh Stacey.

Honorary Pallbearers:  Hayluard Baker, Denny Barnett,Andrew Fraley, Jamie King and William Bryant Rogers.

Thanks all the many family and friends which contributed to Dad's care. 

We would like to give special recognition to his home care team.  They made it possible for him to travel the last leg of journey at home.  Doing so was very important to Dad, so thank you.

Beverly's Angels:  Ima Jean, Lee, Nelson, Pam, Steve and Steven.
Dream Team:  Amy, Belinda, Keri, Manesa, Michelle and Samara
Hospice East: Barbara, Danielle, Donna, Kara, Kelly, Larry, Margaret, Pam, Sandy and Sheila

Memorial contributions can be made to Hospice East, 407 Shoppers Drive, Winchester, Kentucky 40391, Boy Scouts Troup 56 c/o Nick Comer, 405 David Lane. Winchester, Kentucky 40391 or to Honor Flight, Inc. Attn: Diane Gresse, 175 South Tuttle Road, Springfield, Ohio 45505.
Previous Events
Visitation
Scobee Funeral Home
219 West Lexington Ave.
P.O. Box 16
Winchester, KY 40391
Service
Scobee Funeral Home
219 West Lexington Ave.
P.O. Box 16
Winchester, KY 40391