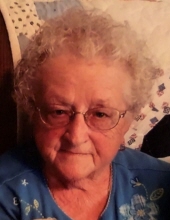 Obituary for Suette Morguson
Suette Morguson, 77, passed away on Friday, February 9, 2018 at University of Kentucky Hospital.  She was born in Estill County on February 3, 1941, to the late Bergin and Dovie Woods Tuttle.  She was retired from Square D. Company, where she worked for more than 23 years.  She was a Cincinnati Reds and University of Kentucky Basketball fan.  Mrs. Morguson enjoyed puzzles, front porch sitting, time spent talking with neighbors, and gardening. 

 Survivors include her daughter, Anna Ruth Morguson; six grandchildren, David and Brett Morguson, Kayla (Justice) Ellis, Whitney Tipton, Riley Morguson and Austin Tipton; three great grandchildren, Haven Morguson, Bentley Holder and Knox Ellis.  In addition to her parents, she was preceded in death by her son, Allen Morguson. 

Services will be at 2:00PM, Wednesday, February 14, 2018, at Scobee Funeral Home by Pastor Ron Ingram.  Burial will be at Woods Cemetery in Irvine, KY.  Pallbearers will be Brett and David Morguson, Austin Tipton, Riley Morguson, Rich Jenks, Leonard Beltz, Don Chaplin and Gerald Patrick. 

Visitation will be from 1:00PM until time of service.