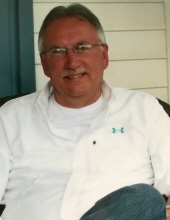 Obituary for Robert Steven Moberly
Robert Steven Moberly, 59, passed away on Saturday, November 18, 2017.  He was born in Winchester, KY, on August 21, 1958, to Bonnie Howie and the late Robert Allen Moberly.  Mr. Moberly was an executive vice president of BMC Contracting and a United States Navy Veteran.  He was an outdoorsman and loved fishing and hunting. 

Survivors include two children, Rebecca (Michael) Young and Robert Steven Moberly, Jr.; one step son, Hayden Crim; three grandchildren, Kiersten Moberly, Hunter Dunaway and Brayden Moberly; four brothers, Russell Fuller, Keith Fuller, Gary Moberly and Jackie Welch; special friend, Cindy Ferguson and fiance' Mackela McIntosh.  In addition to his father, he was preceded in death by his grandmother, Della Blevins.   

Family will receive friends from 10:00-11:00AM, Friday, November 24, 2017 at Scobee Funeral Home.