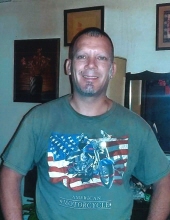 Obituary for James Michael Tipton
James Michael Tipton, 39, passed away on Thursday, June 21, 2018.  A native of Clark County, Kentucky, he was born on July 6, 1978, to Charles Taulbee and Sandra Tipton White.  He was a general contractor. 

In addition to his parents, he is survived by three children, Whitney, Emilee and Austin Tipton; one step-son, Brett Morguson; two sisters, Brittany Bailey and Tasha Michelle Watkins; one brother, Jacob Taulbee; grandmother, Margaret White; grandson, Bentley; several aunts, uncles, nieces, nephews and cousins. 

Services will be at 2:00PM, Monday, June 25, 2018 at Scobee Funeral Home by Pastor Billy Keller.   Burial will be in Winchester Cemetery.  Pallbearers will be Robert White, Zach White, Jeremiah Taulbee, Jacob Taulbee, Ralph Banks and Tony King.  

Visitation will be from 1:00PM until time of service.