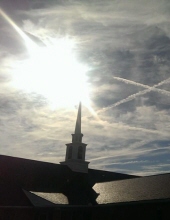 Obituary for Jack Cline
Jack Cline, 94, widower of Alene Barker Cline, passed away on Sunday, July 9, 2017, at his home.  He was born in Montgomery County, Kentucky, on September 18, 1922, to the late Walter L. and Pearl Fugate Cline.  He was a farmer and retired from Carpenter Brothers Wood Perserving in Lexington, KY.  Mr. Cline was a member of Mt. Zion United Methodist Church, Mt. Sterling Rd. 

Survivors include two daughters, Barbara Cline Reeves and Sharon A. Cline; one granddaughter, Sheri and Gary Griffieth; one great granddaughter, Kandace Brooke Griffieth; two nieces, Catherine Ikard and Betty Jane Jones.  

Graveside services will be at 4:00PM, Wednesday, July 12, 2017 at Winchester Cemetery Shelter by Pastor Mike Jones.  Scobee Funeral Home in charge of arrangements.   

Memorial contributions are suggested to Hospice East 407 Shoppers Drive, Winchester, KY 40391 and/or Mt. Zion United Methodist Church 6145 Mt. Sterling Rd., Winchester, KY 40391.