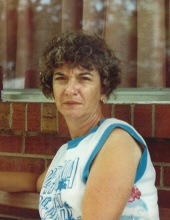 Obituary for Geraldine J. Richards
Geraldine J. Richards, 77, wife of Carl T. Richards, passed away on Monday, February 12, 2018 at St. Joseph Hospital.  She was born in Montgomery County, Kentucky, on January 25, 1941, to the late Leonard and Mary Margaret Rairden James.  She was a homemaker. 

In addition to her loving husband of 60 years, she is survived by one daughter, Karen Marie Richards; two sons, Allen Thomas Richards and Jason Leonard Richards; two sisters, Helen Clay McDaniel and Marcella J. Hull; one brother, Leonard James Jr.; two grandchildren, Brandy Marie Maggard and Jessica Renee Richards; and three great grandchildren.   

Services will be at 10:00AM, Friday, February 16, 2018, at Scobee Funeral Home by Dr. Ed Mesta.  Burial will be in Winchester Cemetery. 

Visitation will be from 9:00AM until time of services.