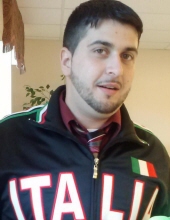 Obituary for David "Dave" Airth
David "Dave" Airth, 28 of Frankfort, KY was born in Buffalo, NY on April 3, 1990 to Debra and Donald Airth. He left this world on April 11,2018 at the University of Kentucky in Lexington surrounded by his loving wife, Amy.

David grew up along side his younger brother in small suburb of Buffalo. He moved to Kentucky in his 20's to pursue a career in sales with this older brother. He met his wife and had their daughter. Dave was very passionate about music, politics and Buffalo Sports; especially the Buffalo Sabres hockey team. 

He is survived by his parents, Debra (Matt) Airth of Tonawanda, New York and Donald Airth Sr. of Frankfort ; his wife, Amy Airth of Frankfort; one daughter, Ariana Raine Airth ; one step son, Jacob Gabriel Ball; two brothers, Donald (Katie) Airth Jr. of Frankfort and Andrew Airth of Tonawanda, New York ; three nieces, Angelina, Rosabella and Valerie Airth of Frankfort and one nephew, Donald Airth II also of Frankfort. He also leaves behind many loved aunts, uncles and cousins. 

Visitation will be from 2PM to 3PM Saturday, April 14th followed by a funeral service at 3PM at Scobee Funeral Home. Burial will be in the Winchester cemetery. 

In lieu of flowers donations to David and Amy's daughters college fund will be accepted.