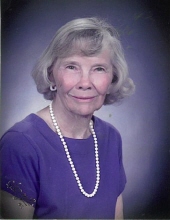 Obituary for Chrystal Lea Wise Ashcraft
Chrystal Lea Wise Ashcraft, 86, passed away Sunday, November 26, 2017.  Chrystal was born October 3, 1931 in Ravenna, Kentucky, to her parents, Elva and Mary Wise.  Chrystal was number six out of 11 children. 

Chrystal started her working career at Westinghouse and retired from Champion International Papers in 1993.  She was an active member of West Side Church of Christ in Hamilton, Ohio, for over 50 years.  After retirement, Chrystal set off to travel the world.  Traveling with family and friends brought her great joy. 

Chrystal had four children, 9 grandchildren, 5 great grandchildren and was an Aunt to over 40 nieces and nephews.  Her children are Faron Ashcraft, Gwen Brill (Mike), Debbie Sullivan, and Tom Ashcraft.  Her grandchildren are Christi Childress (Matt), Sarah Ashcraft, Lauren Brill, Lindsay Brill, Brandon Ashcraft, Jessica Gafgen (Brandon), Austin Ashcraft, and Ryan Sullivan.  Chrystal's surviving siblings are Alonzo Wise (Margaret), Thelma Dunaway, Elfreeda Wickizer, Wavlene Dunaway (Damon), Mary Alva Fox (Harry Dale) and Lynda Parks (Montie).  

She was preceded in death by her siblings Wilbert Wise, Opal Critchfield, James Wise, and Allene Wise and her grandson Nick Ashcraft. 

Graveside services will be at 12:00PM, Friday, December 1, 2017 at Winchester Cemetery.  

In lieu of flowers, memorial gifts can be sent to Johnson University at 7900 Johnson Drive, Knoxville, TN  37998 or made online at JohnsonU.edu/donate in "loving memory" of Chrystal Ashcraft.