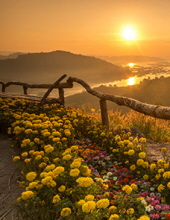 Obituary for Bobby Ray Barker
Bobby Ray Barker, 54, husband of Cleda Miller Barker, passed away on Sunday, October 8, 2017 at St. Joseph Hospital.  A native of Clark County, he was born on August 24, 1963, to the late Robert and Lelia Hisle Barker.  He was a UPS shift supervisor and previous owner of B&B Knives in Lexington, KY. 

In addition to his wife, he is survived by two sisters, Carol Cupp and Barbara Hunley; several aunts, uncles, nieces, nephews and cousins.  He was preceded in death by his parents and sister, Joyce May. 

Services will be at 1:00PM, Wednesday, October 11, 2017 at Scobee Funeral Home by Pastor Billy Keller.  Burial will be in Winchester Cemetery.  Pallbearers will be Donald Hunley, Donald Hunley Jr., Danny Hall, James Miller, John May and Michael Benton. 

Visitation will be Tuesday, October 10, 2017 from 5:00-7:00PM at Scobee Funeral Home.