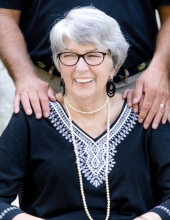 Obituary for Billie "BJo" Walson
Billie Jo Walson, 81, passed on to the Lord on Thanksgiving morning at her home in Winchester after a long illness.  "BJo", as she was nicknamed by her grandchildren and affectionately called by her family and close friends, began her life on October 23, 1936 in the mountains of Pike County.  After living in Arizona, New Mexico and on a ranch near Jackson, Wyoming, she spent the rest of her childhood and all of her adult life as a resident of Clark County. 

A 1955 graduate of Clark County High School, she worked as an executive secretary for the Allen Company for 38 years, until retiring to devote nearly all of her time to her beloved grandchildren.  She spent every day loving her family and friends, and attended Calvary Christian Church.  She enjoyed many hobbies:  horseback riding, water skiing, painting, singing, and above all, dancing.  She was a former member of the Winchester Art Guild and a Past President of the Clark County Democratic Women's Club. 

"BJo" was the widow of Arthur M. "Whitey" Walson.  She is survived by a son, Judge Jeffrey M. Walson (Judge Kimberly Blair Walson), a grandson, Jacob P. Walson (Taylor Walson), a step granddaughter, Sofie Blair, all of Winchester; and a granddaughter, Savannah Walson Settles (Lannon Settles) of Versailles.   

Visitation will be held at Scobee Funeral Home in Winchester on Tuesday, November 28 at 11:00 a.m., with funeral services led by the Rev. James Bush immediately thereafter at 2:00 p.m.  Pallbearers are Jacob P. Walson, Lannon Settles, Will Snowden, William Berryman, Tim Duncan and Ruge DeVan.  Honorary pallbearers are her many dear friends and her wonderful neighbors, both young and old, on Milwood Drive. 

Contributions to Hospice East 407 Shoppers Drive, Winchester, KY 40391, in lieu of flowers, would be greatly appreciated by the family.